Through art, HUB-IN aims to foster the transformation of the waterfront area
The Belfast HUB-IN team has continued to engage with local communities around the Maritime Mile through visitor and community events in the city.
During August 2023, the team took part in the Festival of the River, a family friendly event along the River Lagan in Belfast, and in September 2023 the team welcomed the return of one of the city's largest festivals, the Belfast Maritime Festival which celebrates the city's rich maritime heritage.
The HUB-IN team hosted pop-up information stands and captured what local communities love about the Maritime Mile and their views on how creative industries can play a role in preserving, sustaining and enhancing heritage on the Mile.
The team promoted Belfast's three HUB-IN actions – the development of a Waterfront Promenade Framework, a £100,000 Challenge Fund for creative industries to develop innovative prototypes to support heritage on the mile, and a sustainability audit of the Maritime Mile.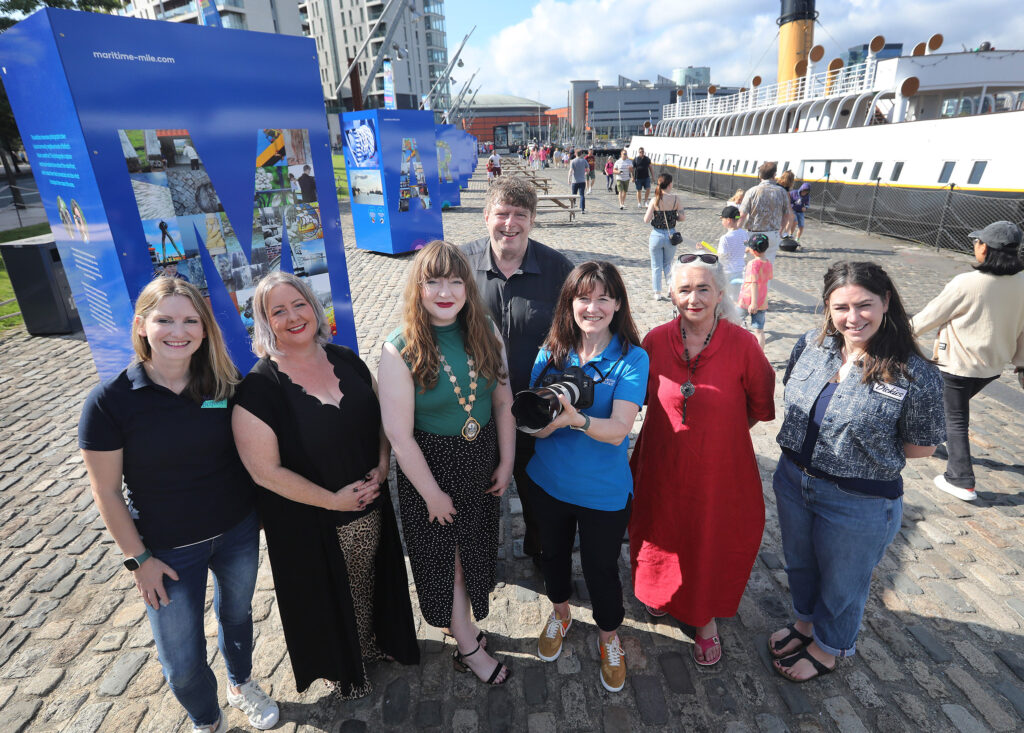 ---
An exhibition to capture people's relationship with Belfast's waterfront
Belfast HUB-IN was also delighted to be part of the Back to the River 'Maritime Mile through my lens' exhibition which was commissioned as part of the Belfast Maritime Festival. The project is led by the Maritime Belfast Trust, the charity which preserves and promotes Belfast's rich maritime heritage.
Based at Hamilton Dock near the Titanic Belfast visitor experience, the exhibition showcases photographs taken by local community neighbourhoods including Sailortown, Lower Ormeau, East Belfast and local businesses along the Maritime Mile and captures what local communities love about Belfast's waterfront, and what makes them feel connected to the area. The free exhibition continues until November 2023.
Kerrie Sweeney, CEO of Maritime Belfast Trust said: "Over the summer we worked with Belfast Exposed and neighbouring communities to create a dramatic photographic exhibition that captures people's relationship with Belfast's waterfront. We encouraged the groups to consider the waterfront through the lens of various themes from neighbourhoods to the Maritime Mile and wildlife, industry and looking to the future. Part of our mission is to promote Belfast's evolving waterfront and we hope that the exhibition will encourage people to explore the Maritime Mile and discover more about this fascinating part of the city."
Deputy Lord Mayor of Belfast, Councillor Áine Groogan, said: "We are delighted to support the Maritime Mile Through My Lens exhibition at Hamilton Dock delivered by Belfast Maritime Trust and Belfast Exposed. This exhibition has captured Belfast's rich maritime heritage through the eyes of local communities and neighbourhoods who have the privilege of enjoying our unique waterfront at their doorstep. It's a creative way of sharing and expressing their connection with their surroundings with the wider community as well as the many visitors who will be enjoying the activities at this year's Belfast Maritime Festival."
Find out more on Belfast's HUB-IN here.